Permanent supply in any environment, today and in the future - our high-performance power supply PROtop is fit for digitalisation.
PROtop combines highest efficiency and compact housings with high durability and direct parallel connection without diode modules, saving space and cost. With a 40% reduction in space requirements compared to leading competitors and with one of the highest efficiencies the Protop is the right choice for engineers looking for the best environmental solution. With patented 'DCL technology' and optional IO link communications module for condition monitoring the PROtop is the right choice for smart energy management.
Your Benefits at a glance
COMMUNICATION-CAPABLE WITH RETROFIT SOLUTION
PROtop can be retrofitted with a communication module for the requirements of tomorrow.

DIRECT PARALLEL CONNECTION OPTION WITHOUT DIODE MODULES
The integrated ORing MOSFETs in PROtop provide high power with minimal dimensions and do not require any additional assembly or wiring work.

OUTSTANDING PEAK LOAD RESERVES THANKS TO DCL TECHNOLOGY
Thanks to the future-oriented DCL (dynamic current limiting) technology, high pulse reserves are available at all times e.g. for powerful motor starts.


PROTOP WITH INNOVATIVE DCL TECHNOLOGY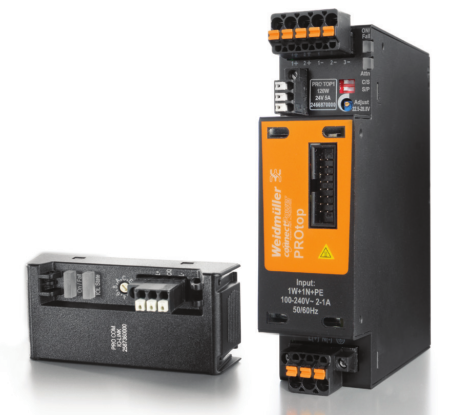 High pulse reserves for starting motors quickly and safely.

Excellent peak load reserves up to 600%.
Extremely reliable triggering of circuit breakers.